Our History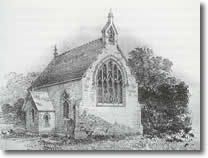 Kingston Vale, a staging post on the road from London, was best known for many years for the local inns which provided the services needed by travellers before the long haul up Kingston Hill – thence on through Kingston to Portsmouth or the Royal route to Hampton Court.
As part of the nineteenth century Christian revival, the first church in the area was built in 1839 and on 22 June 1847, it became the centre of a Parish in its own right. The present church was consecrated on 22 July 1861 and was built on land given by the Duke of Cambridge, using funds donated by the Duchess of Gloucester (a daughter of George III) and others. The Organ Chamber was added in 1871, the North Aisle in 1874 and the Choir Vestry in 1886.
Princess Mary Adelaide, the Duchess of Teck, who as a resident in White Lodge in Richmond Park was a frequent worshipper in the church, laid the foundation stone for the North Aisle.
The Duke of York and his fiancée (later to become King George V and Queen Mary) attended the church on Sunday 7 May 1893, soon after the announcement of their engagement, together with the Duke and Duchess of Teck and the Prince of Wales (later to become King Edward VII). More recent memories of royalty are of the attendance of the Duke and Duchess of York (later to become King George VI and Queen Elizabeth) when they in turn were in residence at White Lodge.
In 1997 the Parish celebrated its 150th birthday and the building of the first St John the Baptist church in Kingston Vale. Although not formally listed, the original church remains completely unaltered both internally and externally.
In addition to the small and large Parish Halls, the latest facility to be added is the Andrews' Wing, which was opened in 1999.
The Parish today now consists of some 1,000 households in a multiracial, multi-denominational community with a wide range of educational backgrounds and occupations. The latest Church Electoral Roll has members from varied ethnic backgrounds. The average age of whom is becoming steadily lower, as people with young families move into the area and are attracted to join in the activities of the Parish and of the wider community. The Kingston Vale Residents Association, and other local organisations represent that community.

Kingston Vale is part of a 'Strategic Area of Special Character', as designated by the Royal Borough of Kingston-upon-Thames, with St John's at its centre and with the Conservation Area of Coombe Hill within the Parish boundaries. The parish also includes Putney Vale, from where the church has many members and links, including the current Team Vicar being a chaplain to ASDA.
Click here to see the 1935 St. John's Wedding clip from British Pathe.