Jubilee Garden Party
Her Majesty The Queen's Platinum Jubilee Garden Party, Sunday 5th June.
Our PLATINUM JUBILEE GARDEN PARTY will be held in the orchard behind St John's Church.
Everyone in the community is welcome.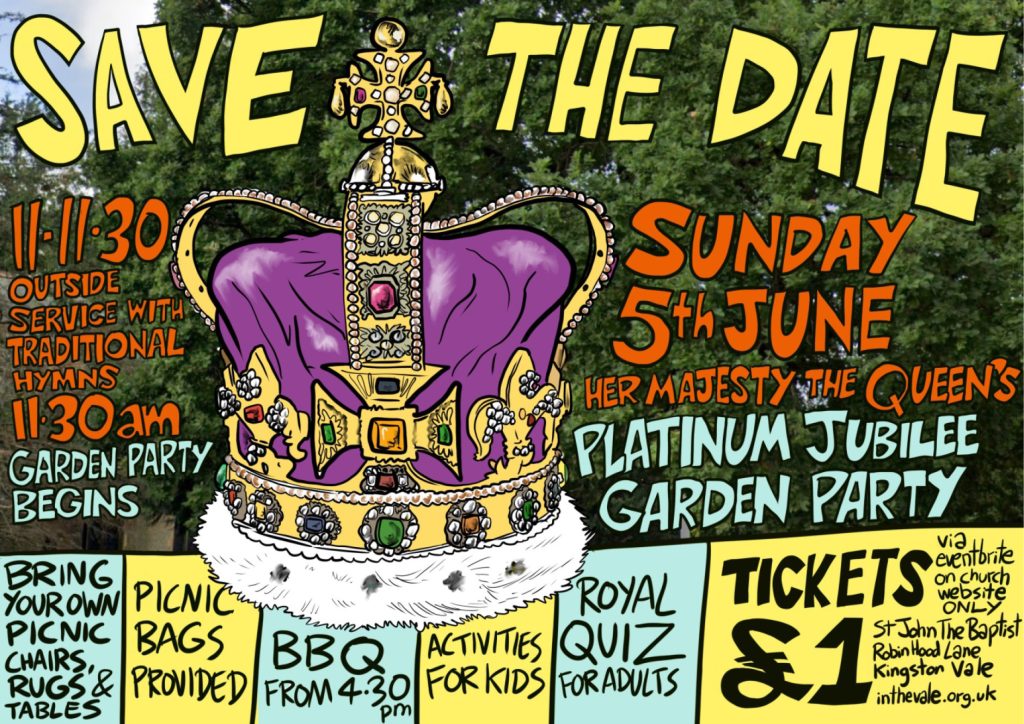 11am-11.30am there will be an outside service, including traditional hymns.
All welcome to attend the service and stay or arrive from 11.30am.
Your ticket will include a packed lunch. Activities will be available for children, and a Royal quiz for adults if you wish to participate. Children are the responsibility of their parents at all times.
You are welcome to bring your own picnic chair, rugs and table if you wish. Please bring your own drinks and plastic glassware.
Tickets are £1 per person and everyone of all ages needs a ticket in advance – we will welcome additional donations on the day, from those who wish to do so. Click HERE to buy your tickets.
Later in the day you are invited to stay and buy items from the BBQ or bring and share food with others.
Please email the church office if you have any special dietary requirements.
We will have lots of fun activities for all ages including an opportunity to take your photo sitting on a throne so if you ever fancied yourself as a debutante, a pearly King or Queen or just have a hat you have not worn since the last royal garden party you went to and were looking for an opportunity to wear, bring it along.